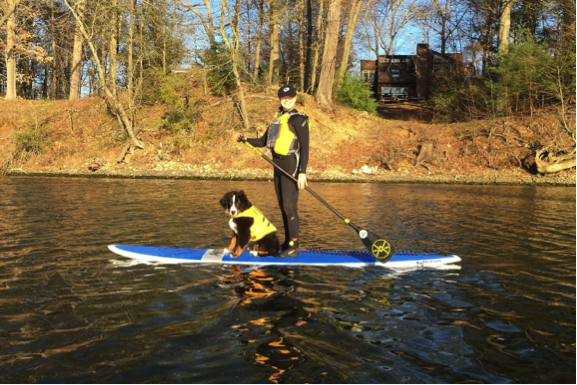 Heart and Soul: The Story Behind Downunder
Hi, I'm Kim Hawkins, owner of Downunder Kayaks, SUP's, and Surf Shop…
. . . a business dedicated to fun on the water for people of all ages, abilities and walks of life.
Raised in New Zealand, I LOVE the water, being creative and having a good time. When my kids were young teens, I got the opportunity to take over a small boutique with a few kayaks in Rowayton, CT, called Below Deck. It's grown to two stores, one year round in the neighboring town of Westport. We laugh that these surf shops are successful in an area with no surf! Yet they are, and I think the secret is the passion – the love for being outdoors, the 'surfer' mindset and lifestyle. The experience you get when you visit Downunder is laid back, easy going, no worries.
In season, we offer SUP and kayak rentals, instruction, guided tours, kids camps, birthday parties, corporate outings, clambakes, SUP yoga, meditation, Sup with your Pup classes, and fitness programs. We sponsor the annual Stand Up For Veterans Charity Event and co-sponsor the annual Soundsurfer Waterman's Challenge. We host certification courses such as PaddleFit and ASI. We are greatly involved with the community, and have a strong passion for veterans and first responders, offering them a discounted rate on all services. We cater to several off-site venues for private events, as well.
Both locations also have a boutique with clothing and apparel, water toys, footwear, jewelry, and accessories, boogie boards, and skim boards. Our Westport location carries hard goods that include paddle boards, kayaks, surfboards, wetsuits, and all the gear that goes with them.
My kids and husband have all been involved in the business over the years. For me it's all about family and friends, and empowering them through on-water activities – and in true 'kiwi' fashion, everyone is considered family :)
Both of Downunder's locations are on flat-water rivers that lead out to the protected Long Island Sound – gorgeous tidal waterways, estuaries, islands – the area is truly magical. Patrons can be as daring as they want – learn tricks, try yoga, take a fitness class, train to race. Or simply relax and paddle leisurely, take a tour, meditate.
The Downunder Mission Is To Have a Good Time
It's all about enjoying your experience on the water and feeling good about yourself. We provide the tools, make sure you're safe and prepared. We make it easy so that you can be successful. Kids from 3yrs to 80+ are totally capable and welcome. Downunder promises that a visit will enrich, enliven, refresh, and rejuvenate. You'll feel like you're on vacation and will want to come back for more.
Downunder is committed to the environment and its caretakers and to a way of life that reflects our passions and beliefs, our concerns and convictions. We want to make the water accessible for everyone, particularly those with disabilities or special needs. We are here to make a difference.
Learn more about us by visiting www.downunderct.com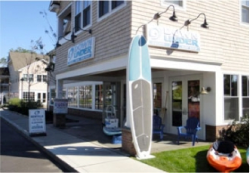 Westport, CT
Rowayton, CT