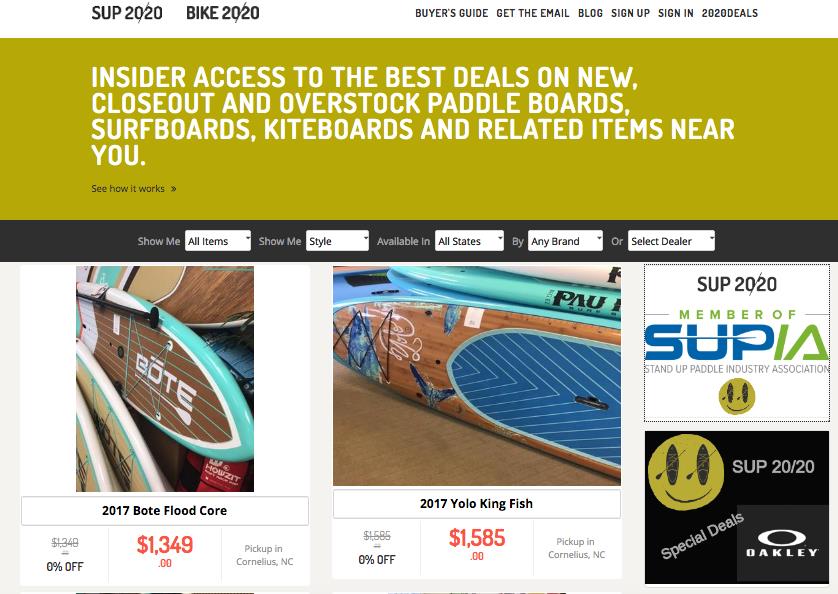 SUP2020.com, the online marketplace for new, closeout and overstock SUP, Surfboards, Kiteboards and accessories for pickup at local shops has launched! Since its launch in 2013, Bike2020.com has successfully matched consumers and local bike shops and SUP2020.com will so the same for the SUP / Surf industry.
Just like their sister site Bike2020.com does - SUP2020.com provides consumers a breakout way to find the best deals at local shops and offers dealers and manufacturers a new and better way to expose their inventory to a wide audience.
Consumers go online and search deals and specifications on boards or accessories that they are interested in. Shops list new, closeout, demo & discounted boards & accessories to reach their local customers as well as a national audience. All sales are made through / in the shops to ensure fit, knowledge and relationship building.
SUP2020.com is a great platform for buyers, shops, manufacturers and distributors. The shops get to expose their slow moving, closeout or overstock inventory at prices that entice customers into their store. Manufacturers get to expose the inventory hidden in the warehouse and support their dealer base. Customers get a first look at deals they might not otherwise see and they can pick up their board at their local store.
SUP2020.com is committed to the brick and mortar dealer model. Shops pay a nominal subscription fee to join SUP2020.com and we do the marketing for them. SUP2020.com does not facilitate any sales or charge any after sale fees. We drive customers to local retailers where all sales are transacted by the shop. The shops not only have the ability to move their inventory but they also enjoy the add-on sales and building direct relationships with customers for future business.
Dealers simply snap up to 5 actual photos of a board or accessory for sale and quickly upload their inventory via mobile or desktop device. With a few minutes effort, inventory on sale can be presented to thousands of consumers that the shop may not otherwise reach.
Shops interested in exposing their new, slow moving and closeout inventories can sign up here. Industry brands interested in knowing more about advertising opportunities and Manufacturer listings can email hello@sup2020.com.