Event Details
EXCLUSIVE OPPORTUNITIES FOR MEMBERS OF
| | | |
| --- | --- | --- |
| | | Exhibit in SUPIA's featured section at Surf Expo. This special opportunity is exclusively available to SUPIA members exhibiting for the first time at Surf Expo. Includes a 5×10 booth space and advertising to help promote your brand to buyers at the show. |
---
| | | |
| --- | --- | --- |
| | | SUPIA is curating the latest and most unique concepts for display in the New Concepts Showcase. The showcase will be a great go-to for Buyers looking for the most innovative, unique new products. |
SEPTEMBER SURF EXPO SCHEDULE
**January 2019 Schedule Coming Soon**
---

Focus:
Staying sharp & leading the industry
Date:
Wednesday - Sept. 5th – 9:00am – 12:00pm
Format:
Round Table , coffee & bagels
Schedule

- 9:00 Coffee, bagels, networking
- 9:45 Welcome & Introductions
- 10:00 – 12:00 Retail Leadership Roundtable
On-water demo immediately following

Focus:
Sharing perspectives on our 'shared' water customer.
Ideal For:
Retailers, Exhibitors, All
Date:
Thursday - Sept. 6th – 10:00am – 11:00am
Format
Panel and Round Table
The State of the SUP Industry
Focus:
Where are we? Drivers & Drags of moving participation & sales forward
Ideal For:
Retailers, Exhibitors, All
Date:
Thursday - Sept. 6th – 2:00pm – 3:00pm
Format:
Presentation and Round Table
Women & Water
Focus:
Female Perspectives on Paddle Sports Industry.
Ideal For:
Retailers, Exhibitors, All
Date:
Friday - Sept. 7th – 10:00am – 11:00am
Format:
Round Table
What is NEW and EXCITING in SUP?
Focus:
Retail panel debriefing on the show, products & direction of industry
Ideal For:
Retailers, Exhibitors, All
Date:
Friday - Sept. 7th – 2:00pm – 3:00pm
Format:
Round Table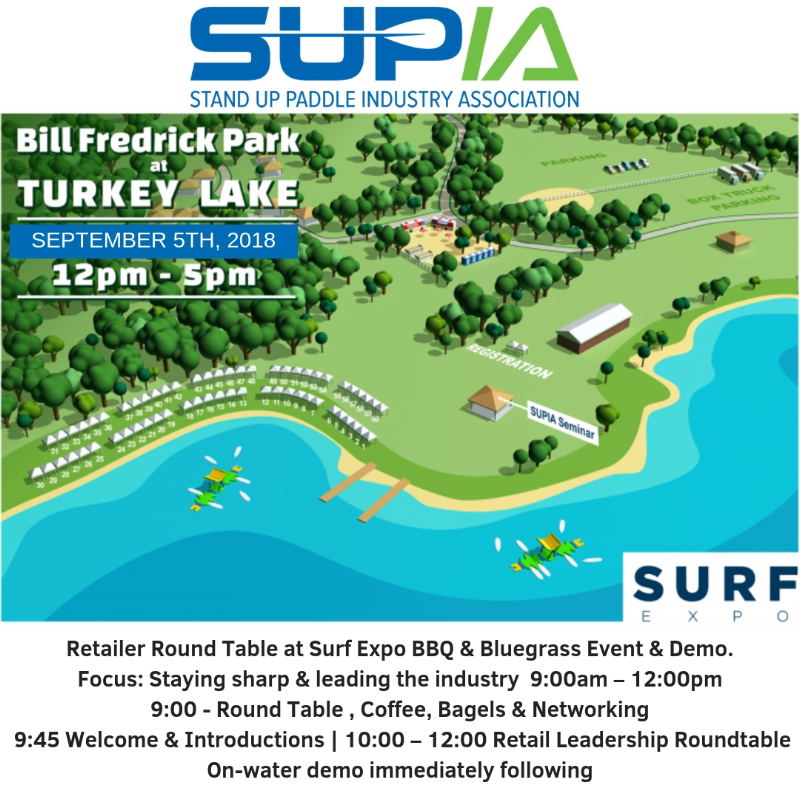 Surf Expo Trade Show 2018

Thursday, September 6 – Saturday, September 8 2018
Orange County Convention Center
North Halls A-B
9899 International Drive
Orlando, Florida 32819
Show Hours
Thursday & Friday: 9am – 6pm EST
Saturday: 9am – 4pm EST
Surf Expo is produced in January and September in Orlando, Florida and draws buyers from specialty stores across the U.S., the Caribbean, Central and South America and around the world. The show features more than 2,300 booths of apparel and hardgoods and a full line-up of special events, including fashion shows, annual awards ceremonies, and demos. Average buyer and exhibitor turnout exceeds 28,650 attendees including retailers, exhibitors and media per show. Surf Expo is a TRADE ONLY EVENT and is not open to the public.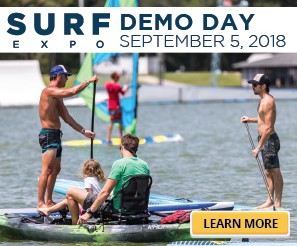 Surf Expo is the Global Watersports and Beach/Lifestyle Tradeshow held twice annually in Orlando, Florida at the Orange County Convention Center. The show is the key marketplace for manufacturers and buyers in the surf, skate, SUP, wake, wind, kayak & canoe, swim, boutique, footwear, resort, coastal gift and souvenir industries.
The shows draw buyers from specialty stores, major resorts, cruise lines and beach rental companies from across the U.S., and more than 70 countries. Surf Expo features approximately, 2,400 booths of apparel and hard goods and a full line-up of special events, demos, fashion shows, seminars and annual award ceremonies.
Surf Expo is consistently awarded by the tradeshow industry, most recently the September 2015 show was named Fastest 50 for growth in exhibitors by Trade Show Executive, and both 2015 shows made the Top 25 Fastest Growing Tradeshow list for growth in attendance, byTSNN.
Registration for this event has passed